Vancouver Island is a land of adventure, excitement, and breath-taking beauty. It has everything you could want in an island: mist-shrouded hills, sandy beaches, rugged wave-pounded coastline, and unfettered wilderness. It is equal parts raw nature and manicured civilization.
Lighthouse Country is the ideal place to base yourself while you explore Vancouver Island. You'll be in the ideal location to visit Pacific Rim National Park on the west coast of Vancouver Island, Cathedral Grove where you can see the giant cedar trees, Mount Washington; less than an hour away where you can ski and snowboard in the winter and go hiking in the pristine wilderness in the summer.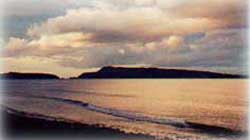 Our sunsets are legendary and afford residents and visitors one of life's great pleasures that are still free. The nightly summer show is often accompanied by eagles soaring overhead, sea lions breaking the surface and cruise ships sailing lazily across the horizon.
Lighthouse Country has all the facilities that you need to make your vacation a memorable one: motels, campgrounds, bed and breakfasts, fishing guides and charters, artists and artisans. You can go hiking, swimming, fishing, mountain biking, canoeing, kayaking, golfing, spelunking and more.
If you wish to just sit and relax, there are wonderful beaches far from the hustle and bustle of city life. Just sit and watch the tide come in and out while you view the constantly changing scenery and the distant, snow-capped coastal mountains on the British Columbia mainland.