On the east coast of Vancouver Island , British Columbia, just opposite the northern gulf islands of Denman and Hornby, sits an unspoiled natural area that is called Lighthouse Country. Within this coastal community are the villages of Qualicum Bay, Bowser and Deep Bay. The central location of Lighthouse Country makes it the ideal place for you to make your base while you are touring Vancouver Island as well as visiting the numerous local facilities and attractions.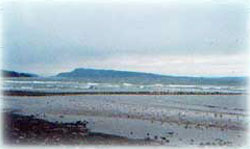 Qualicum Bay is a large natural bay with a huge expanse of sand at low tide. Here you will find the water warm for swimming in summer, as well as an excellent place to comb the beaches.
Qualicum Bay has roadside stores where you can stock up on fresh caught seafood to take with you and put on your barbecue for an evening meal.
Lighthouse Country has miles of shoreline on the Strait of Georgia with numerous beaches for swimming. Many streams join the ocean in this area and each one has a hiking trail beside it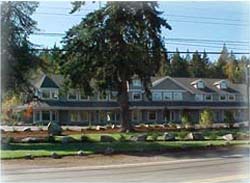 The waterfront community of Bowser which overlooks the gulf islands of Denman and Hornby, is just a few minutes drive north of Qualicum Bay.
Bowser is the main community centre of the area and has most of the commercial facilities: a well-stocked supermarket with a bakery and butcher; a convenience store with liquor and postal outlets; the Legion; public tennis courts; restaurant; hardware store; service station; and an assortment of small resorts.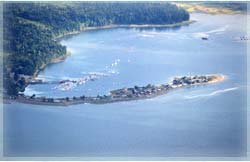 The small oceanside community of Deep Bay is seemingly devoted to angling. Mapleguard Point is a spit that juts out and protects Deep Bay's natural harbour right beside the larger expanse of Qualicum Bay.
Nicely sheltered by the Point, Deep Bay launches boats that go fishing for salmon that lie in the area of Norris Rocks , Chrome Island and Eagle rock.
We have all the benefits of a rural lifestyle, yet we are only 20 minutes away from superb shopping facilities in nearby towns and cities. The new Inland Island Highway (Hwy. 19) from Nanaimo to Campbell River, provides us with quick access to the larger urban areas and the ferries. The highway is located about 3 km inland from the existing highway and is a freeway with a 110-km/h (70 mph) speed limit
Lighthouse Country boasts world class artists and artisans. Watch them at work by visiting their individual galleries and workshops to view all of the wonderful creations that have been produced at the hand of these most talented people.