Vancouver Island enjoys Canada's mildest year-round climate. Lighthouse Country is in a coastal marine environment, with warm, dry summers and short, mild winters.
Our area is one of the few places in Canada where, during the winter months, you can ski in the morning and golf in the afternoon!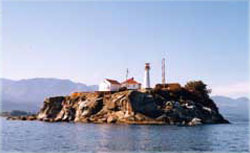 Spring arrives as early as February and is mild. Summer is comfortably warm and dry with temperatures from 18° to 32°C (65° to 90°F). We have a very low humidity ratio and light offshore breezes, which keep summer days from becoming too hot and summer evenings cool.
Fall arrives late in the month of September. During our mild, but wet winters, lawns and golf courses remain lush and green. We experience little or no snowfall during the winter months.