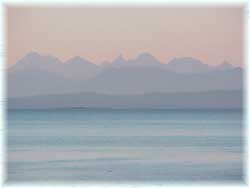 Lighthouse Country's breathtaking backdrops and diverse natural environments provide visitors with an excellent reason to head outdoors. Whether you prefer the thrill of rockclimbing and rappelling, spelunking, hooking the "Big One", canoeing, kayaking and sailing, mountain biking, hiking through our scenic parks and trails, or a relaxing round of golf on a championship course, it's easy to enjoy our range of outdoor activities.



Many of our bed & breakfasts and resorts also offer fishing charters, boat rentals and boat launching in addition to accommodations. Be sure to check their individual pages in our accommodations area for the services they offer.



Fishing Charters – Known world wide for its spectacular coastal mountain ranges, abundance of wildlife, pristine waters and world-class sport fishing, Vancouver Island is a special place. Vancouver Island is the world's most popular salmon and halibut fishing charter destination. We offer our clients the opportunity to fish from ALL of the most productive angling locations here on Vancouver Island. More info…



Arrowsmith Golf & Country Club, the only course right in Lighthouse Country, is an 18-hole, par-61 beautifully manicured course with a driving range, a practice bunker, two practice greens, and a full-service clubhouse. More info…



Come find out why Horne Lake Caves won an award for the " Best Natural Outdoor Site in B.C." by Attractions Canada!



Tailor the thrill to your own comfort level – from the 90 minute Riverbend Family Tour to the five hour Extreme Rappel Experience. For those of you who would prefer to stay above ground, there is the thrill of rockclimbing and rappelling, or the quieter opportunities to fish, suntan on the beach, go boating or hike the miles of hillside terrain. More info…



Parks and Trails – Pack a picnic lunch, grab your camera and set out to discover our picturesque rainforest. Follow a scenic trail along one of our many rivers, hike or bike a challenging mountain track, or dip your paddle in the quiet waters of Spider Lake. Our parks and trails offer a wide range of activities to suit your preferred pace. More info…